NEW:a new BIG psyclotron might come up in 2009, we're trying to make this happen
:)
the new Psyclotron & El Bosco's myspace page
but this small website remains our headquarters for announcements and updates
and... ladies & gentlemen, we meet again. in peace and in love.
.
NEW! WOODSTOCK CELEBRATION NIGHTS AT "ROCK CLASSIC" BAR
(Marché aux Charbons / Kolenmarkt, Brussels)
* sat. 15 august 2009 - 21h to 6h - FREE ENTRANCE - Woodstock Commemoration. 21h: Film + 3 DJs psychedelic rock mix
. . One night of Peace, Love and Music. (org. by www.myspace.com/daydreamskull)
.
PSYCHEDELIC NIGHTS AT "BATEAU IVRE" CAFE
with dj el bosco playing classic Psyclotron psycherock, psychesoul, acidrock, 68's cult tunes!
Grand Place - 7000 Mons / Bergen
from 21:30 till late! (3am or 4am)
free entrance, of course
:::::::::::::::
* 1st febr 2008 - SMart 60s Rock night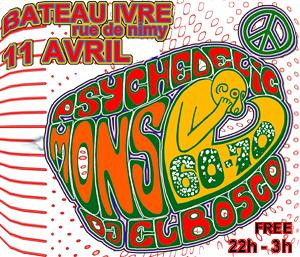 * 21 apr 2008 - Pink Floyd night (after "live in pompeii" movie)
* Wed. 14 may 2008 - ending-night of the Doudou
* Sat. 24 may 2008 - Psyche 60s 70S night + Blues concert
* Sat. 9 june 2008 - Psychedelic 60s 70s night
* Sat. 21 june 2008 - Psyche night + concert by a cover-band of The Doors
* Sat. 28 june 2008 - end of the Season and last psyche-mix @ Bateau Ivre until september!!
* Sat. 27 september 2008 - opening night of the new Season
* Fri. 26 december 2008 - celebrate WINTER 1968-69!
* Wedn. 11 febr 2009 - special SMart night! (french lyrics only)
* Fri. 7 march 2009 - special 70s-80s-90s Olivier's birthday party! (3 rock djs)
* Sat. 11 april 2009 - 60s-70s tribute to Amougies Festival 1969
* Sun. 31 may 2009 - Singe-a-Delic night ... Psyclotron-bar DJ mix
* Doudou weekend 2009, Thurs. 11 june - WooDoudouStock in a raspberry world!
* Fri. 24 july 2009 - Psychedelic Hippie Bar
.
PSYCHEDELIC NIGHTS AT "MAISON DU PEUPLE" (Parvis de St-Gilles, Brussels)
* Fri. 19 december 2008 - 22h - free Psyclotron Psychedelic mix
* Fri. 3 april 2009 - Free Psyclotron Psyche mix
special tribute to Amougies festival 1969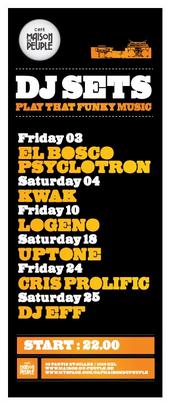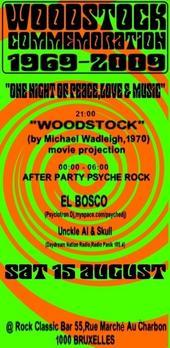 -
::::::::::::::::::::::::
40 Summers after 68 ! WE'RE IN HEAT AGAIN!
June 2007: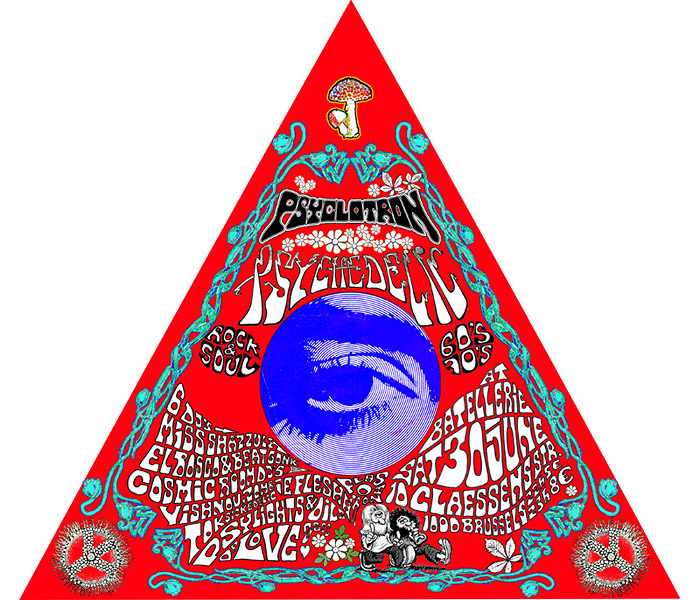 30 JUNE 2007
at batellerie / oude school voor binnenvaart - brussels
A FULL MOON NIGHT
A SUMMER HAPPENING
A SAUCERFUL OF LOVE !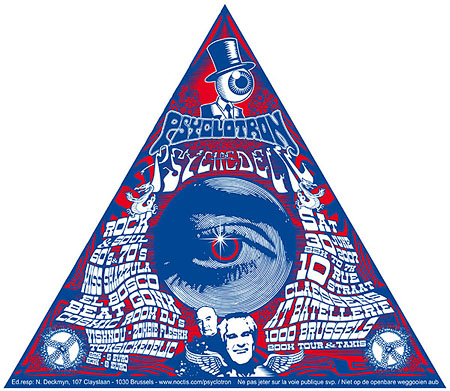 ** Psyche Dancefloor
+ Chill Out room
+ many Art happenings
+ Psy Lightshow
+ Flash-o-tron tunnel
by the Dr Love 22cc

Music: 60's 70's Rock & Soul
+ 70's Cosmic Music

Psyche-Rock & Soul deejays:
Miss Shazzula (Paris, Aqua Nebulae)
Beat Gonk (Philippe Golbert, Radio Centraal)
El Bosco (Nico Noctis, Psyclo)

+ Chill Out room by deejays:
Vishnou,Toksikedelick, Zombie Fleshh

+ Psychedelic lights by:
Dr Love 22cc
& courtesy of Sir Kebra

+ Conscious inforoom


+ Artists:
Laurent D. (aka Lo&Samz)



at Ecole de Batellerie / Bulex / O[n]ZE
@ 10 rue Claessens straat
(hoek van stapelhuisstr. / coin de la rue de l'entrepôt)
1000 Brussels
****************

300m behind Tour&Taxis
bus 57 & 14 (stop: 'Armateur')
10 min walk from north station
or metro Ijzer / Yser
easy to find !!

Doors: 22h= 5 Eur ...
... 23h= 8 Eur ...
... 4h30= 4 Eur
/\/\/\/\/\/\/\/\/\/\ /\/\/\/\/\/\/\/\/\/\ /\/\/\/\/\/\/\/\/\/\ /\/\/\/\/\/\/\/\/\/\ /\/\/\/\/\/\/\/\/\/\
**********************************************************************
PREVIOUS EDITION 2006:
AWESOME AND LOVELY
SATURDAY 9 SEPTEMBER 2006


the Psyclotron Psychedelic Party
was a full happiness and love celebration
- the craziest Rock & Soul club
- a unique and huge Chillout
- more than 1200 happy people
THANKS TO YOU ALL !!!
so much thanks to:
Colantoni, Beat Gonk aka Philippe Golbert,
Dominique, Stéphanie, Vincent, Alain 'Kebra',
Ahmed, Marc, Noëlle, Hubert, Benoît, Maoro,
Laurent (Lolo Kâma), Clément, Ilian, Ali, Eric,
Johann & Laurent, Mehdi, Ghayas, Nathalie,
Rhumble, Anne, Gwreg, Wildcat, Yassin,
Oxfam (Luc), RAP Antipub, Modus Fiesta, Cawett, ...
the artists: Yassin, Daer, Ohne & Who? (open air graf),
Romain Simon, Denis Houet, Luc Dubar, Rachid El Hajoui,
Romain, Mylène et Guillaume (giant Psychedelic paints, Fr),
Mercedes d'Hoop, Ariane Cornil, Mondiani, Thomas De Moor,
Kobe Lootens & Maarten Dieryck (architectes urbanistes),
Edouard 'Reeba' Dembrovsky (open air Psychedelic paints).
and ALL those who gave their time and their energy to make this happen
(we're still looking for more pictures of the previous party ... do you have any?)
(on cherche encore des photos de la soirée précédente ... en avez-vous?)
(we altijd zoeken voor meer fotos van de september nacht... hebt U dat?)
please ---> psychetronique@gmail.com thanks !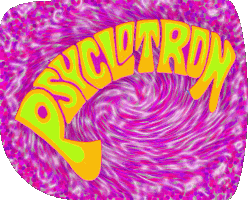 Psychedelic Parties in Brussels
since 1992
the goal is to transport the people into a huge Hippie and Yippie Rock and Soul party featuring lights, sounds, environment and ideals of that time. From 13th Floor Elevator to Hendrix, from Jefferson Airplane to Otis Redding. A big colourful soup of psychedelic and sixties references, for more and more fun! Dance, visuals, movies, paintings, everything is there to please the travel in time since more than 20 successful events.
Psyclotron also features large chill out rooms with music like Tangerine Dream, Klaus Schulze, Ash Ra Tempel, cosmic music mixed with 60's/70's ballads and some recent ambient creations.


2 psyche rock mixes
by deejays Gillax-O-Tron, Gilles & El Bosco
just click here for the part one
and here for the part two
recorded live in Psyclotron nights
1994 & 95
1 cosmic chillout mix
recorded as a preview of the chillout
for 9 sept 2006
click here to listen to the chill
[you need Realplayer to listen to our mixes
it's 100% free if you take the basic version at real.com]

For any Psyclotron contact:
professional light shows, event organisation, psychedelic Rock & Soul deejays, 60's exhibition, ...