| | |
| --- | --- |
| Psyclotron concept and structure has been officially approved by Timothy Leary in 1994 when he visited Belgium for a conference. He signed our official corporation release, which made him spiritual member of the crew, and spontaneously chosen spiritual mentor. | |
1. Where comes the name Psyclotron from?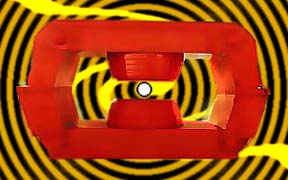 - heart of the first Belgian Cyclotron - 1947 -
In 1931, Earnest O. Lawrence invented the first functional cyclotron, a device that would allow scientists to accelerate atomic particles to incredible speeds. Subsequent basic research at Berkeley National Laboratory led to the discovery of many radioactive isotopes such as carbon-14, cobalt-60, hydrogen-3, iodine-131, and technetium-99 (those later became vital research tools used by biologists, paleontologists, and archeologists, or as aids in the medical treatment of various diseases).
[ www.lbl.gov ][ www.cyc.ucl.ac.be ][ rug.ac.be/~kstrykmn/cyclotron ]
In 1992, our staff invented the first functional Psyclotron, a device that would allow all of you to accelerate psychedelic particles to incredible speeds.
2. Short views of our past parties:

spring 1992: creation of the Psyclotron staff, with as target to realize a Psyche-Rock-Sixties concept. Into the Kultuur Kaffee (university area), 800 people were deeply diving into colours and sounds from the most creative years of this century: the late 60's, early 70's spirit of freedom and happiness.
Crew was: Christian Colardyn - John - Gregor Beck.
Click to see the poster designed by John:

.

3 oct 1992: the same crew + Serge B. used to re-create the same atmosphere in the same place. Successfully if a gang wouldn't come. The party was great (more than 700 people were there), but the security lesson was great too.
Poster designed by John & Christian.

Insured by their passion, Psyclotron did a third night at the "Halles de Schaerbeek" with a bigger event on november the 27th. Clearly, a walk in the times of freedom. Freedom of spirit, freedom of speech, freedom of body. Smoke circles from a monster's mouth, large light show including running coloured oils on screens, big sound system with 3 psychedelic deejays (John, El Bosco,...), chill out area, professional (but peacefull) security squad (10 watchers)... the budget has been big. Too big for what has Psyclotron, even if the crowd was there (900 p.).
Psyclotron tried to do things so nice for a price so low, it couldn't work... so it didn't.
Poster designed by John & Serge.


After having disappear for a year, Psyclotron striked back on 1993 october the 9th, in a disused army barrack, the "Caserne Dailly".
A new crew expected to push up the subculture of the Yippies: Christian Colardyn & Nicolas Deckmyn. They gave back its breath to a large Rock & Soul Rave, under the psychotic light show or in the small and hot chill out room. Light controlled by Christian and musically drived by El Bosco (aka Nicolas), legendary Gillax-O-Tron, & Gilles (resident deejay "Gemeaux" 1974), Psyclotron seduced 1200 people. But only 900 were allowed to come in for comfort reasons.
Click to see the flyer designed by Nicolas:

To increase the power of its concept, Psyclotron needed more specific energies. Thus, Xavier Leton, Gilles Maes (the deejay and painter), Philippe Deprez were involved in the head line of the group. The coming event at "Bulten" was a positive unity test, and a beautiful night. Painting exhibitions of Gilles Maes (impressionnist portraits of musician) & Anthony Lesire (pure psychedelic), music by the three same deejays, fire works, circus artists, lights by Christian & Xavier...
Poster designed by Nicolas.


Under the five influences, the next party was really brilliant, and deeply magic.
More rooms, a cult movie cinema, a giant chill out hall, an information area (Greenpeace, Bombe Verte, Crohinga Well psyche mag.,...), a labyrinth including the Flash-O-Tron (hypnotising tunnel), and still a big dance hall... Something happened that night which was out of organizers control, something real & magic: in a room lefted by the info stands, a few people started to play meditation around a candle. After a few minuts, there was a little crowd not pretending to meditate, but really diving into the "Ooooooooohm....ooooooooohm...". They were sincerely together in a spontaneous force for more than half an our. Magic!
Poster designed by Nicolas, edited by Gilles.


From that date, officially accepted to be the spiritual mentor of Psyclotron. We wish him a good trip in space.

24th of september 94: event at "Botanique" center (with concert of Optic Eye, UK) + 60's/70's flyers & LP jackets exhibition (from the Gilles Maes's private collection) in a separate hall + psychedelic dance party.
2 different posters: 1 by Christian, 1 by Nicolas.


31st of december 1994 at "Volta" hall. Decoration with butterflies, large technical development + deejays Gilles & Gillax-O-Tron. And a concentrated crowd.
Poster designed by Gilles.


6th of july 1995: Psyclotron was in charge of the Dour festival opening night (south of Belgium). Open air psyche party + camp fire + giant video screens with fractal pictures & running oils.
Poster designed by Christian.


10th of november 1995 at "Ex-Voto", 3 levels party with psyche dance room, chill out and cinema. Deejays: Gilles & Uriel.
Poster designed by Gilles.


95/96 new years eve at "Ex-Voto", again on 3 levels for a wicked night!
Poster designed by Gilles.

spring 96 at "Lights & Shadows hall": 60's party + artists exhibition + cinema + chill out room with theatre happenings & live didgereedoos. Also a House music room with deejay Koenie (Antwerp)
Poster designed by Gilles.


3rd of may 96 at "Ramblass" hall: concert of Mister Chicks (groovy late 60's classics) + psychedelic party with Gilles & El Bosco.
Poster designed by Gilles.


May 1996 at "Magasin 4" on 2 levels: psychedelic Rock & Soul dance (El Bosco, Uriel), Chill Out (Uriel).
Poster designed by Gilles.


Spring 97 at "Magasin 4", 2 levels party with dance room (El Bosco), chill out (Uriel) & cinema (Woodstock,...),...
Poster designed by Gilles, edited by Christian.

May 1998 in a red londonian bus all around the city. Deejays: El Bosco, Kozy Corner, Jef.
A partnership with Kunsten Festival Des Arts
Flyer designed by Nicolas


27 August 2005 - a 90 minutes Psyclotron DJ team at the amazing open-air club Le Gazon in Brussels Royal Parc
Deejays: Gilles, El Bosco
Faithful support by Dr Love 22cc
Graphics by Nicolas


24 February 2006 - 6 hours nonstop Psyclotron DJ mix at the Beursschouwburg with more than 600 ppl
Deejay: El Bosco
Faithful support by Dr Love 22cc
Graphics by Nicolas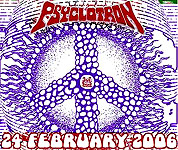 19 May 2006 - Cosmic Chill-Out by Psyclotron. 70's Electronic and 'World' Ambient and atmospheric music
at the Beursschouwburg with about 400 ppl laying on the pillows listening to Tangerine Dream, Ash Ra Tempel, Ravi Shankar, ...
Deejay: El Bosco
Faithful support by Dr Love 22cc
Graphics by Nicolas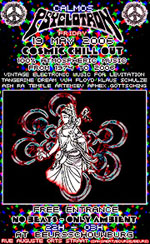 9 Sept 2006 - the return of the Full Psyclotron Psychedelic Party, with 2 halls + many art-rooms (7 artists), 4000 flowers, 16 oil-projectors, 5 deejays, and 1250 crazy hippies !
Main room: Psyche-Rock and Soul 60's-70's. Chillout room: Ambient and 70s Cosmic music.
at the Batellerie (Bulex), a gigantic disused school in Brussels. A magic party and a great gathering!
Deejays: Colantoni, Beat Gonk, El Bosco + Chillout room: Vishnou, Zombie Fleshh
Lightshow by Dr Love 22cc & Kebra
Graphics by Nicolas


16 December 2006 - 6 hours nonstop Psyclotron DJ mix at the Beursschouwburg with about 600 ppl
Deejay: El Bosco
Faithful support by Dr Love 22cc
Graphics by Laurent "Lo" D.

(to be continued ... ).