1988 ... the desert
In 1987-89, using New-Beat as a first step, the House Music and Acid House were landing onto Europe and there was almost no radio to tell it to the people.

The only confidential shows around were on local broadcasts as:

- 'Liaisons Dangereuses' on SIS Antwerpen (later on Metropolis)
with Paul Ward and Sven Van Hees
- a weekly New-Beat mix on Top FM Bruxelles
- 'Acid Story' on Radio Campus Bruxelles
by Nicolas Deckmyn and Alexis de Boe
- 'Liquid Sky' on Radio ACE in Kontich
- also another show a bit later on Radio Centraal Antwerpen

Most of those shows were New-Beat dj mixes with a few announcements about the coming parties. Only "Acid Story" wasn't. It was actually more like a news magazine strictly related to the New-Beat and Acid House developments... with reports and chronics, featuring many records but not mixed at first, and listing all clubs, all deejays, all places where New-Beat could be found at the time (and there wasn't that many places).
DJ Shows

Slowly the scene changed and (mostly) splitted to House & Techno & Trance. In 92-93 most bigger radio stations did not turn in and refused to play any, thus the only way was to reach the smaller and alternative radioshows inviting deejays to spin live.
You could find it on SIS Antwerpen (Behind the Beat), Radio Centraal, Radio Campus (Some Like it House), Radio Panik (Brussels Needs to Move), Radio Scorpio, etc... Only the Dutch and British National Broadcasts had official DJ shows, as "For Those Who Likes to Groove" on Nl Radio 3, and the all new "Essential Mix" show presented by Pete Tong on BBC Radio One.
But in the meantime some small commercial networks found Trance a dramatically interesting target to work in Belgium. Back then the 'Thunderdome' parties and cd's were getting seriously big in Holland and Germany, as well as the belgian Trance labels Bonzai and Dance Opera. On that musical base started some 100% dance FM such as Lazer Radio around 92, Channel X, then later Anastasia and Top Radio.
Radio Crystal starts ... Techno, Trance & House

That's how, a beautiful day in 1993, started the very first sounds broadcasted by Radio Crystal over Brussels, on 106.5 fm.
Actually, the world of the radio business was quite wild ... the whole FM frequency was full of small and big radios still fighting each other to send stronger and wider, and there was strictly no free frequency where to start a new broadcast over the city. So, the only way was to buy a whole radio... with the name, the non-profit association, the frequency, and usually even the studio and the address. All at once.

In the late 80's, Radio Contact tried to start a bilingual broadcast with the same music but two separate radios... one frenchspeaking and one dutchspeaking. Both were Radio Cristal and Radio Crystal, but the idea did not find its public quick enough. Late 1992, it seems that a Dance network tookover the dutchspeaking 'Crystal' to turn it into a Dance radio... and fortunately it was a nice name, because it was illegal to change it anyway.

In april 93, wondering what was that new FM radio playing only Trance and Hard-Tech over Brussels, Nicolas found out who was at the head of Radio Crystal: Rudy Ryckewaert, the creator and manager of the Radio Lazer network. That's how he very quickly found himself in charge of the mix selection aired every day on 106.5 fm. While other radios of the Lazer network were playing mostly Trance and Gabber-like, Crystal went to play more and more mixtapes recorded by House and Underground Techno deejays such as Little Pat, Jos & Olivier Gosseries, Geoffroy, Koenie, Danny V, D-Jack, Mi-K, Steve Cop, or Skander.
Radio Reppublica shows the way

At the Spring 1994, the music label R&S celebrated its 10th anniversary by creating a 7 days radio on a temporary FM frequency in Gent, but relayed at night by hundreds of radios all over Europe, since it was broadcasting the best electronic music ever. Derrick May, David Morley, Sun Electric, Ken Ishii, The Orb, ... all the best Techno, the best Ambient, with the best speakers. A step ahead, the real stuff. Its name was Radio Reppublica.

After almost a year, Radio Crystal was still and only a few machines together in the middle of an empty appartment, with an aerial on the roof of the building on the place Meiser.
A multi-cassette player, a massive electronic timer controlling the schedule and playing the commercials, an FM transmitter and its amplifier. That's it. But that was already enough for the kids to spread the word in the city ... "we got our underground dance station... not only with the usual commercial dance, but with our very own deejays too !" ... the audience was growing.
Radio Crystal finally LIVE
In May-June 1994, Radio Crystal moved to the 22nd level of the highest building on the avenue de l'Héliport, nearby the North Trainstation. At the top of a tower, with only a couple of mixers on a table ... Crystal was finally about to start its live broadcast.

The radio was technically managed by Rudy Rijckewaert but actually owned by Wim, one of the owners of the club La Rocca. That's how Rudy asked Nicolas Deckmyn to build a whole weekly schedule for what would become the first serious Dance radio in Belgium, reflecting all styles... all trends... all aspects of the night musics.

Rudy had the main material, transmitters and decks, the licences and the technical knowledge on how to build a radio. Nicolas had the contacts, the passion, years of radio production, and a deep musical knowledge. He also added in some small tools... mixers, deck cartridges, records, tapes. Two weeks later, it was ready to air.

Full live deejays every day from 14:00 till 03:00! A special Trance-show on wednesday for the younger public, an after party and a chillout on Sunday morning to relax from the clubs ... Techno and House of course, but also Jungle, Funk & Hip Hop, Roots Reggae, Ragga, and enough Trance to please everyone. Even another Chill Out show on sunday with deejays Morpheus and Alex. A long complete party agenda came up twice a week, sometimes featuring unexpected interviews with national and international artists passing by.
This is an approximate view of the areas reached by Radio Crystal based on several individual tests and on the phone calls of the listeners.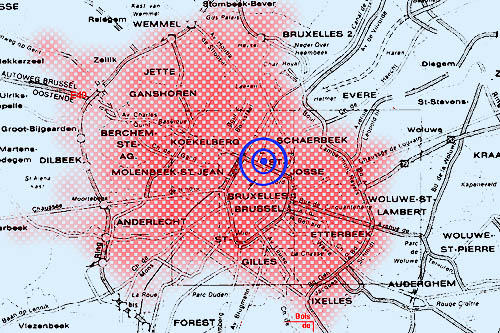 55 deejays reflecting the whole Belgium.

On a way more local and national base, the schedule was clearly inspired by the R&S Reppublica experience a few months earlier.

Radio Crystal was trilingual ... with a lot of English, and a few French and Dutch. But the party agenda had to be totally bilingual Dutch/French, that's how Nicolas asked Robby in Sept 1994 to join in the crew to be the main Dutch speaker on the air, while himself would do the French part.
Radio Crystal also supported and organised some events, as the House Generation expo at the Heysel in spring 1995.

For a year, everything went fine. Rudy was managing the business and gave his touch to some shows, Nicolas was managing the global schedule and programmes, the public was growing and growing ... it was surrealistic. Even while Crystal could not be heard after a few kilometres, there was some kids in Antwerp saying that they were listening to it. Same in Namur or Waterloo. The fuzz was awesome.
A real crew slowly gathered onto the concept... Mathieu, Nicolas, Marc, Robby, Yvan, and more people giving their time and helps to the 106.5 fm.
The split

Anyhow, some internal divisions started in June 1995 leading to a fast split.
From that split, considering the atmosphere in the office, Nicolas choose to leave Radio Crystal in July wether he really wanted it or not, and went back to Radio Campus and other new projects (as Noctis.com).
Some other members followed him to Radio Campus, or moved to Radio Panik and other local stations.
But that wasn't any end... the Crystal crew (Rudy, Robby, Yvan, Matthieu, ...) kept broadcasting anyway for 8 more successful months with most of its dj shows, adding new shows by Franky Jones among other changes, renewing the logo & visuals, etc ...
Anyhow, the FM struggle was really wild in Brussels ...
and the whole VZW has been suddenly sold to the Radio Anastasia network in February 1996 ... a Dance network indeed, but nothing as fun and eclectic as Radio Crystal was. Anastasia was more like Top Radio can be nowadays.
The end

A couple of months later (round Sept 96) the frequency has been recovered by the Vlaams Gemeentschap (Flemish Community Council) and temporarily given to the new non-profit radio 'FM Brussel'.
It wasn't meant to be, but FM Brussel actually kept the road initiated by the early Radio Crystal grid, offering both underground and popular music, many different music styles, and many dj shows all along the week... with a great alternative tone.