I was 17 in 1987. And New-Beat was about to land.
I was yet in passion for the night and generally for the nightclubs. But most of those clubs hosted common deejays playing TV hits and all time classics... I felt really frustrated since I was floating between Hippie music (Pink Floyd, Hendrix, Janis Joplin) and early electronic cosmic music (Tangerine Dream, Klaus Schulze, etc)...

I had fun on 'normal' dancefloors anyway... so I took it as it was.

One day a friend told me "wow man... you like the 'Peace-and-Love', you'll love this: in Gent, there's a club where people dance raising arms. Really!". I took some infos here and there, and indeed there was something important happening in a club called Boccaccio near Gent... and the good night seemed to be the Sunday night, which sounded pretty weird to my ears ... "not Saturday? You sure??". I've been told that the deejay was Eric from La Gaité in Brussels, but that was not confirmed.

Next Sunday I was in the car of a friend... with him driving on the motorway in the direction of Gent. We leave the motorway, we follow the name Zele... and we find ourselves on some lost dark little road in the middle of nowhere, going slowly and trying to find any sign of life around. No one... just asleep homes and a cold mist. We stop to look on a map. One car passes us... two cars... in a third car, full of kids like us, they play some music that we identify as New Beat! "Woohoo... follow them... follow!!"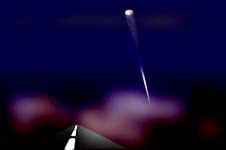 We lost them after a few turns but we knew we were on the right way. And indeed... a couple of kilometres later, we saw a skytracer in the far... a DCA aiming to the sky... slowly moving trough the clouds. Destelbergen, here we are.

Solariumdreef... yes, that's it.
The magic begins.

In our car, my friend and I, we both knew that we were about to see something huge. But we never suspected that it could change our life so deeply. We only knew it 70 minutes later.

Now the point was first to find an empty space to park... since ALL the streets and roads around were covered with cars. The two giant parkings were not enough and it was overwhelming the area for at least two kilometer. Cars along the little river, cars in the parking of the nearby Solarium, even foreign cars on neighbours parking areas. We found it somewhere far behind the fields, and walked back to the club. We ran between cars from Holland, from Germany, France, UK, and even Italy... you can guess how impressed we were.

The queue at Boccaccio became legendary in 1989, but in 87 it was really new to us... so it took us 45 minutes only to get in the entrance hall. In the line were many kinds of people... some fashion victims, some classic people, some freakheads, many girls for sure. Then we passed the bouncers (with dogs in a box), and we entered the first long hall.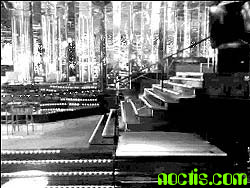 It was really cheap for an entrance... 80 Belgian Francs (2 Euros!) and the soft drinks were all at similar price. No complains, we walk in.
Of course we boys first looked at the girls around... that's no surprise... but we quickly turned on something else: the Sound. We walked left, some steps, a bar... and the main hall was in front of us, all of a sudden. 3...2...1... impact.

"Baby Wants to Ride" say the speakers ... the sound is bold and perfect. Full of plain bass kicking the chest and shiny trebles echoing in the neck. The tones are new, the words are rare, the sounds are directly talking to our feelings... the message is 'in' the music. We let ourselves slip into the soft heat, and it doesn't take long before we join the crowd for a move.

There... hundreds... maybe thousands of beautiful people raising arms and banging the place like i've never seen before. Colours... many colours. Dark blue, pink, dark red, yellow... almost no jeans,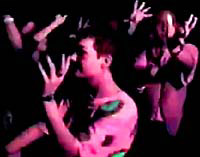 no classic shirts. Only crazy clothes, large knickers, t-shirts with LOVE or a smiley or Jesus or "Where's The Party??", necklaces with the VolksWagen logo, black pants with white spots, Doc Martens shoes with a red band to make it look like clown shoes, silk gloves, sexy holes in the throusers, small round sunglasses, ... well... people who were dressed to party! With special party clothes, on hypnotic electronic dance music.

Maybe that sounds usual to you now... but in 1987, it was almost one of a kind! Most of clubs were playing "Modern Talking", Jackson and Madonna only... with a very classic selection at the door. For the first time, some clubs opened their doors to the fun and crazy people of the night. It was like "oh wow! creativity!"... and we named it New-Beat because we knew nothing about House back then. We were even denying anything related to Disco. "Disco? Beeeah". Shame on us, ok, but it's true.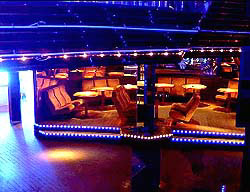 I danced my brain out that whole night. Just took some minutes to talk with female martians i met on the podium... there was a nice small intimate living-room where to protect the closer drinks to share... on the right side of the groundfloor bar.
In the middle of the night, the deejay played 'Public Relation' and 'Ninos Del Parque', some other Electronic Body Music such as Front 242 "Welcome to Paradise" and Snowy Red, or even Ofrah Haza... but a remix using samples. A big cybernetic flower slowly opened, straight up to the dancefloor... full of spotlights and neons. Behind the decks were two deejays: Oliver Pieters (a tall man with round glasses) and Eric Beysens (the music freak). I did not dare to talk to them that night, but they definitely turned me on New-Beat. This was exactly all what I expected... Woodstock people with Electronic hypnotic music.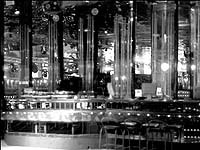 In the left corner, just next to the emergency exit, in a tall curve of the wall, there was a puppet. A big one with a flat face, and homeless-looking clothes. His arm was slowly moving up and down. It was figuring the Boccaccio character from the Decameron. The ancient story. I said hello.

The morning was no less than a heaven for youth. Many of us were standing out in the parking to see the rising sun with music coming from the carsystems. And sitting on top of our cars, just like that, in the middle of the fields of Flandria... feeling the energy of the youth in front of us... thinking about the 3 or 4 thousands party-kids who came that night... with the orange sun at the line of the landscape... woaw mates. It's hard to explain how deep it was.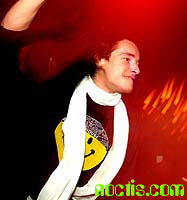 Yeh, sure, it's my view from now. And I was a teenager, and blablabla... ok ok... But lemme tell you: in 1987 there was no more than 7 clubs in Belgium doing that (Fifty Five, Skyline, La Gaîté, AB Antwerp, Beau Bruxell, Vizio). And Boccaccio in Destelbergen was the leading one.
And now? The name 'Boccaccio' has been sold to another club in the mid-90's. But the name only. Now there is a club near Diest with that same name, but it is not the same club, and not the same deejays of course. As I'm used to say, nobody can buy the past.

Fortunately the original place has been preserved for 10 years, until it reopened with a new name: Mega-Temple. Not sure that I like that new name, and not even sure that I like their new music (Progressive Trance & Dance hits), but the place remains strictly the same... and the owner too. So, let me pay here some respect to Dirk Demaersschalck, Olivier and Eric.

Men... with Shasha (Vizio) and Plastic (Skyline), seems you've all been drawing the future ways of my life. 17 years later, I can figure how far and how good it was. :-)

Thanks.
Nicolas Deckmyn Bruxelles - April 2004
Visit www.megatemple.be , they show nice pictures of the inside.