www.bernhardknaus-art.de
for all exhibitions and large book ordering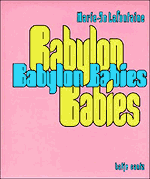 Babylon Babies is available on Amazon.com at 40$ + shipping
Sorry for the big banner, but this was the best way to show what's available from her.
On Amazon.com :

Marie-Jo Lafontaine
Babylon Babies - 2003
Marie-Jo Lafontaine
Die Büchse der Pandora
Marie-Jo Lafontaine

Cantz Ed. (June 2003)

Hardcover, 8.75 x 10.25 in. 176 page, 114 color illustrations. Each book is signed by the artist

Essays by Christine Buci-Glucksmann, Hawa Djabali, Charles Dreyfus, Nick Calingaert, Simon Njami, Paul Ardenne, Nicolas Deckmyn, Romuald Hazoumé, Robert Eichhorn, Adolph Muschg and Willem Elias, ...

Museum Schloss Hardenberg, Velbert : December 1990
Bernd Barde Edition: Marie-Jo LaFontaine, Otto Neumaier
About the artist and author:
Marie-Jo Lafontaine was born in Antwerp in the fifties. She is the recipient of numerous awards and has seen her work exhibited regularly in the most famous museums throughout the world, including Manhattan, London, Madrid, and many times in Germany. Leading the video and photographic arts since the late seventies, she builds specific environments for the public to discover her visual creations. Focusing on the controversial edges of our society, she's been mentionned in 2003 as one of the 10 biggest artists in the world. She currently lives in Brussels.