70 DEEJAYS - NO BOOKING FEES ADDED! - DIRECT SERVICE
CHOOSE THE DEEJAYS IN THE LIST
AND THEN CLICK HERE AND SEND A MAIL
---
-> Nick Calingaert aka Common Factor - Chicago House
Pure Chicago House. Deejay & also live! Powerfull show including recent EP's.
Labels: Planet E, Soma, Paper rec, and now his own label: Tactile.
Check his bio & discography page (+press & samples) here
Chicago - USA. !! so it means + flight and hotel.
The only deejay from another country in this list.
Listen to him as deejay in 2002. Click here
After tours in Australia, Asia and Europe, Common Factor will play for New Year 2002-2003 in Chile!
-> Michel Traxx - House & club style
Michel spins Deep House since the very early 90's. He's resident since 1996 in one of the main belgian House club: Mirano Continental. His style is based on a powerful UK & US House basement dropped with a very dry mix.
Available on fridays and some saturdays.
-> Murvin Jay - House & Club House
He started his career at legendary Vaudeville in 1993 as guest, and he's now one of the most respected House deejay in Belgium. Every saturday as resident at Mirano Continental until the early weeks of 2002, Murvin is part of most of the big events in the country. Don't miss his great House sense of partying.
->
Olivier Gosseries (Mirano Continental, Fun Radio) Club House & Garage
listen to him here (RealAudio) and visit his site here
If you don't know Olivier Gosseries, then you never came yet in Belgium. Because Olivier has been part of all historical House pages in this country. Vaudeville, Mirano, Who's Who's Land, La Rocca, BeauZoo, and hundreds of parties in main venues since 1986... with all worlds top House deejays. Composing tracks (2 compils, 6 EP's + 7 compils & EP's + those on OG rec., his own label) he's been already spinning in main clubs of Manhattan and in loads of european festivals. Actually, he's one of the main characters of the belgian nightlife.
Available on fridays, any week evenings, and some saturdays.
-> Jos (Strong, Mirano). Pumpin' House & House
Jos started his career around 1991 following the steps of first belgian top deejay Poltergeist. Working almost permanently in duet with Olivier Gosseries he applied first a very deep Garage House sound, before turning on UK Hardbag, Nu NRG and SpeedGarage since 1996, inspired by the funniest english gay dance scene.
Successively resident deejay at Mirano, La Démence (legendary gay club of Brussels), Who's Who's Land saturdays, Strong (the other main Brussels gay club)... he's now leading the Strong club, spins in loads of events and is still a great party value in the belgian nightlife.
->

Isabel (Paradise, Café d'Anvers, Strong). Pure Deep House!
She spinned for the first time 'round 1998, directly dropped onto the new year 98-99 in one of the main belgian clubs: the Mirano Continental. It has been a massive success and it pulled her to some residencies (House of Groove, ...) and to some big events (Never Say Never, Antwerp). She's been also choosen to be part of a Paradise night at Café d'Anvers, opening the gates for more dates in that excellent club. Since then she's been resident at House of Groove, and she's now resident deejay at Café d'Anvers and Strong club. A new star is coming!
Listen to her mix (dec. 1999, realaudio)
->

Marko - UK Pumpin' House
Marko is a club reference since moreless 1991. Playing a permanently progressing club style, he's got one and only target: a full and shouting dancefloor.
Driving in all major events, all major clubs, raves, festivals,...
Resident at La Rocca (Lier) on sundays since the mid 90's, also at T&T (Brussels) and Nova (Gaurain). He spins in all and every big event: Sportpaleis New Years Eve 2000, Beach Festival, Innercity Tour at Heysel, ...
Available on fridays, saturdays and any week evenings.
->

Geoffroy - smooth Techno, club & Dub House
Resident at worldlwide House reference Food club since 1996, Geoffroy started to play records in 1992 after beeing such a nightbird for years. So he choosed the refinest way to spread House music all night long in a great club, for easy people. He did 4 cd compilations on SSR rec called "Moving House" including one dedicated to (and recorded at) the Food.
Guest at Fuse, Café d'Anvers, Sonik, and in lot of biggest national events. No doubt, Geoffroy is one of the most recognized deejay in Belgium.
Listen to him here (RealAudio)
-> Svenus aka Soulmade - club House, Garage & smooth Tech
Part of some big events (Phuture festival, ...) Sven is spinning since the late 80's. But he's now far of the Funk he used to play then... resident at Dali's bar (Brussels) he plays a 100% House set very inspired by original 70's Disco. Technically at the top, he's as fair as his music is hot and deep. Get him before someone make a star of him.
->

Pierre (Fuse, Food, Mayday 96) - plays also 100% House
Probably the biggest Techno star in Belgium with T-Quest and Psychogene, nevertheless he also spins House! Actually he started his way in 1992 at Café d'Anvers on sundays, where House music was the heart. Well he used to play in some private parties since 1990, but all really started at C.d'A. Then came the Fuse in 1994 where he's resident every saturday on main Techno floor since 8 years! Now Pierre is one of the essential elements of any big electronic event in Belgium, but also in Europe (Mayday 1996), and is resident at Techno issues of Food club. Producing some private tracks (only one has been licenced: Air Afrique, with Louis Pirson), he's not yet doing live performances.
->

Eric Beysens (StudioLive, LaRocca, ex-Boccaccio's Fame)
Hot House & Grooves. Spins the hypest sound since 1986.
Also does lives, with or without additional accoustic musicians.
-> Tofke (Carat) - Cool Trance & House.
->

Skander (ex-Vaudeville, Retro at Fuse)
House classics, club style + huge 80's & Electro set !
www.skander.org
->

Bun-Zero (Dour fest., Food guest, Noctis) - UK House, hot style
Bun-Zero started his deejay way in Mons for small parties, back in the mid nineties. Arriving in Brussels, he's been resident of the Nomads parties for years, then took a residency at Brussels-2000 bar for a few monthes. Playing an kicking english House style, Food called him (and his friend Mission 9) for a session in July 2001. The Dour Festival also featured Bun-Zero and Mission 9 in 2000 and 2001. Since then, he spins in more and more parties (at Recyclart, Kan'h Bar, etc...). Besides, he's also music journalist for several magazines, such as Rif-Raf. May the force be with you Bun! 2 mixes to listen to in our mixes page
-> Nr 9 (Dour fest., Food guest, Noctis) - Tech-House de Luxe & lives
-> Philarmonix (Q Lectiv, Food, Plastiks Sound) - cool House or Breakbeatzz
-> Danny V. (Pussy Galore, Soulfood inc., Joy) - Pure Garage & Soul
-> Ugodz (Q Lectiv, some Food) - House & Dub House
-> Sandra (Q Lectiv) - Deep House
-> Gaetan (Sphere, DecaDance) - club House & live bass performance!
-> Steph X (Dali's Bar) - Chill & Housy
-> Mo & Benoelie (Eskimo, Culture Club, whole House scene in Gent)
-> Eric D. (ex-Pitt's, Mystyc parties, Brittannicus)
---
-> Plastic Soul Orchestra (Movida, Undergr. Adventures) - Techno & House
2 deejays, longer set
-> Pierre (Fuse, Food, Mayday 96) - absolute Techno & Techno waves
-> T-Quest (Musicman, Kozzmozz, Mayday 99) - pure Techno + unexpected sounds
-> Psychogene (Neuroleptic, DeLuxe rec.) - pure Techno, Speedgroove.
Psychogene is since 1993 a quality Techno reference in Belgium. He was one of the satellites of the BWP,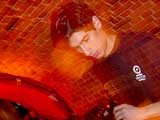 legendary pioneers at the PK hall. He started the Neuroleptic concept back in 1993 and developed it for moreless 20 editions, before the MadeInBrussels club opened its doors in 2000. Now he's guest in most of the major techno events in Europe (Kozzmozz, I Love Techno, Tresor parties,...), and spins every friday in his wild stylish basement in Brussels, with Tim and Tomaz. Psychogene also started a partnership in music production with Nicolas Scaravilli under the name 'Sharpside'. After a few records, and after 4 massive hits in the techno world, they just had two releases selected for Ministry of Sound mix CDs and other compilations + 'Sharpside' has also recently launched a track on Rotation rec (Dave Angel's label).
www.noctis.com/made
Listen to his mix (nov.1999, realaudio)
-> Deg (ex-BWP, Reload rec., Fuse club resident, Mayday 93) -
Techno. His history of House is also a must.
Deg has been one of the first national Techno star in 1991. First he was working at Borsalino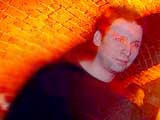 (Waver) and a bit later to Mauna Kea (Hal) during he was part of the famous BWP (see here below, the famous parties at PK hall, etc...). Booked at the Mayday number 4, he then saw his public getting so big that he flew to foreign countries really often after it. Now, he's quietly driving his career between his residency at Fuse club, plenty of gigs every year in many european clubs, his job at BCM records store and some tracks he did on Re-Load rec. and Triad rec. (Circadian Rythms). A high level of talent, since the late 80's.
-> Joost de Lyser (site, Surreal, Electro-Mechanics)
Electro, Tech & New Wave
started spinning records in the mid-80's as a hobby, moreless involved in the post new-wave music. He always had interests for computers and electronic forms of creation, but when New Beat and Acid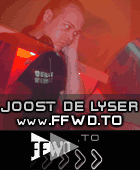 House arrived in Europe, it turned him definitely on it. Since then he never stopped buying and playing those black magic electronic records for his friends first, then for larger crowds. Living in South of Holland, he came to Brussels in 1996, just after beeing resident deejay at the opening months of the Fuse club (with Quinten), then at the Network club (with Psychogene and managed by Mike DMA). A little later he took a residency at CyberTheatre for a year, playing mostly Electro records in the most futuristic place in the city. Since 1998, he's been guest in most major Electro and Techno events in Belgium (Kozzmozz, Rave Explosion, Mazzo, Alive fest., KO, FGA, Enjoy Apoc., Electro-Static,...), and he's part of almost all underground Electro party in Brussels.
Respect: 100%. Ethic: 200%.
Listen to his mix (oct. 1999, realaudio)
-> D-Jack (D-Jacking Zone, ex-BWP)
real Techno underground (acid from Chicago & Detroit) + Chill Out
D-Jack is not only the radical deejay you all know... he's mainly the creator of the whole Techno scene in the country... and if he's not, then he's the main pioneer. Already deejay in 1986 ina funky Hip-Hop style, he turned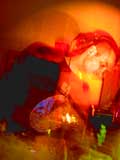 on electronics around 1987. Coming back from Chicago in 1986 with plenty of rare genuine early Acid traxes, with his friend Mike DMA (who also get to Chicago in 88) he created the BWP in 1991.

They all made the legendary PK parties in that giant warehouse near VUB (university, Brussels) from 1992 to 1994. Some tell about those years as the best they ever lived. Now, D-Jack is still underground. Probably the most underground Belgium has ever seen. He never accepted to be commercialised or easily "sold", even by himself. So he's one of the greatest Techno talents ever... but you'll see him only in confidential Electro & refined Tech parties in Brussels, sometimes in Gent. If you have the mind opened enough, and if you have the chance to see him spinning records... you'll have the experience of you life.
Check also every saturday evening on Radio Panik (105.4 fm, Brussels only) for the D-Jacking Zone... only live futuristic vibes by D-Jack.
Listen to his mix (1998, realaudio)
->

Acid Kirk (Elf Cut rec., ex-BWP)
pure unexpected Acid Techno (Chicago & UK oriented) + Chill Out
Acid Kirk is another member of the BWP. At first, he was mostly a live Acid Techno performer, setting the fire to the masses with his TB303 and his sounds in torsions. Later, he started deejaying fast-Techno for large events, but that kind of recognition never really pleased him... so he stopped spinning in 1996 to spend all his time on music creations. Since then he produced several Ambient albums (Psychonauts on Reload) and some EP's with his partner in accoustic perversion: Seal Phuric, but in 1998 he started a label with a friend... and the label was Elf Cut, which is now the main "experimental-illbient-drum'n psycho-jazz" label in Belgium (they also produce Lester Lewitt, Rawakari, Capitol K, ...). The current artist name of Acid Kirk is 'Syncopated Elevators Legacy', but he keeps his acidic nickname when he (rarely) spins, mostly at MadeInBrussels club for Acid Story parties and Techno parties in Europe.
-> Ian (Patchwork on Patchwork rec.) - cool Techno & radical Grooves
-> Louis (Patchwork, Patchwork rec.) - cool Techno waves & Trip Hop
-> Damien (Rave Expl., Nemo) - Techno energy, Acid & Chicago force
-> Regis (News, Gent - Fuse) - House & electro Jazz
-> FX (Phuture festival) - Techno & Dub House
->

Pat Vision (ex-BWP) - Breakbeatzzz & amazing Drum'n Clash
Pat Vision (formerly known as 'Little Pat') was also a member of the 'BWP possee'. He started even before, playing for some small parties at the end of the 80's and doing some early-House mixes on a Brussels radio in 1989. But a few months later, the legend passed trough him and he jumped in the electronic flight of the BWP... so was he suddenly boosted up from 1991 until 1995 between the warehouse parties of the band in Brussels and the major clubs where all of them were booked almost every week. Part of that magic story, he's always been working (and still does today) with Analog B aka Analog Device aka Michel ... but also with plenty of passionated friends (Fabrice, Raphael, Sebastian S., etc.). Note that he also formed a deejay+musicians band, the AGC, with Analog B, Toxic-R8 and MBX in the mid-nineties. But it was a shorter chapter than BWP's. Back on the track, Pat Vision keeps on spinning with the finest cream of his record boxes nowadays. Check it out.
-> Seal Phuric (ex-BWP)- composer (Seekness LP, Virtus, ambivalence rec) -
energized Techno & Ambient
-> Popane (ex-BWP, Strictly Underground, D-Jacking squad) - Techno & Ambient

CLICK HERE TO BOOK A DEEJAY
FOR YOUR PARTY OR YOUR CLUB
---
History of House & Retro


->

Deg (80's new wave trend)

->

Olivier Gosseries(happy 87-92 trend)

->

Skander (happy 90-94 trend)

->

Eric Beysens (resident at Boccaccio 1988)

->

Mo & Benoelie (AB Gent, 55 Kuurne, ...)

->

T-Quest (88-92 trend)

->

D-Jack (86 Chicago trend and visionnary tracks)

-> Joost De Lijser (all kinda style as long as it is Electro) ... a must!

-> Sebastian S. (huge historical set, 86 Chicago trend)

-> Eric D. (any House style, from 1990 to 1996)

---
-> Nick aka Common Factor (Planet E, Soma rec.) - pure Chicago 80's Disco
!! + flight & hotel
-> Anthony Le Sire (Pablo Discobar)
-> Lukas Master Mooks (Movida, Underground Adventures)
-> Youri Coconut (Groove District at Dali's bar, Pablo Discobar)
-> El Bosco Disco (Radio Campus, Groove District at Dali's)

---
->

Bass Culture Soundsystem
(Dour festival, Geel festival) - Raggamuffin,
Roots Reggae, Dancehall style + a bit of Socca.
Huge boiling party atmosphere. 2 deejays + 2 MC's
Check their site here. Listen to them here (RealAudio)
-> ROC Sound (Radio Panik) - Ragga, Reggae & drops of R'n B
2 members, Sekel & Keya + sometimes guests.
Wide range of styles, big energy. www.rocsound.be
-> Boombastic soundsystem - Reggae, Dancehall
3 members for one of the main belgian sounds!
www.reggaeworld.com
---
Funk & R'nB
-> Dû Tam (ex-Who's Who's Thursdays, New Edition club) - pure US style
-> Sake (ex-Who's Who's Thursdays, Flavers) - pure US style
-> HMD (a Brussels Hip Hop master) - wicked Hip Hop
-> Defi-J (Souterrain prod.) - Hip Hop massive or pure Soulfunk
-> Daddy K. (DMC champion 88 & 98, the ONE and only!)
Hip Hop scratchmaster.
-> Nice One (Mad Spirit Foundation) - Ragga, R'n B & Funk
-> Svenus (Dali's bar) - old Funk set ... 80's & 90's
-> Eric (Sparrow) - R'n B, Funky, Ragga

---
Psychedelic Rock (60's-70's)
& 60's Soul
-> Gilles (resident deejay at Gémeaux club 1972-1978, Psyclotron parties 92-97)
Psyche Garage, Acid Rock, boiling 60's lysergical mix including 1965 to 1969 hits.
-> El Bosco (Psyclotron parties 92-98, Psycho Years 93-94, Radio Campus)
Psyche Headrock, Peace & Love 1967 to 1972 hits, Soul, Cosmischen Muzik
listen to a mix of El Bosco & Gilles (1993 realaudio)
---
eclectic hits 60's to 2000
-> Jonathan (Chez Johnny)
-> Abdes (Oskoorland, Radio Campus)

---
CLICK HERE TO BOOK A DEEJAY
FOR YOUR PARTY OR YOUR CLUB